Well Water Testing & Inspections
---
If you are selling your home and need your well water tested, or simply want the peace of mind that comes from knowing you have clean water, our trained and knowledgeable operators can take any water samples you may need. Well & pressure tank inspections are also an important part of keeping your water clean and your well pump running correctly.
Independent
Northern Utility Services is Alaska's trusted independent water and wastewater sampling contractor. Our state certified water operators will take your samples precisely and quickly, and our partnership with ARS Aleut Analytical means that we can have results in as little as 36 hours*.
Experienced
NUS has over 15 years of experience in water compliance and monitoring. Our operators take hundreds of water and wastewater samples per year, ensuring the water quality for thousands of Alaskans. Water is our passion, and we will use that passion to serve you.
Serving Alaska
Our primary operating area is in Anchorage, Eagle River, Chugiak, Palmer & Wasilla, however, we often work as far north as Talkeetna and are in the Kenai/Soldotna area at least once a month. Inspections & water testing outside the Anchorage/Mat-su area will include a charge for travel time.
Water Testing Packages
Well Safe Package
If you are selling your home in the Municipality of Anchorage, or have buyers using a VA or FHA loan to purchase your home, this is the test package for you. To prove that your water is safe, we test for the three most common and dangerous water contaminants: Arsenic, Nitrates, and Bacteria.
If you have never had your water well tested, or if your well hasn't been tested in many years, we suggest that you start by getting this package. It is a good idea to know what the general levels of Arsenic and Nitrate are in your water. The amount of Arsenic will typically not change, but Nitrate levels can fluctuate seasonally because of nearby septic systems. If your well water has a Nitrate value over 5.0 Mg/L (milligrams per litre) we suggest getting a nitrate sample at least every year, preferably every 6 months.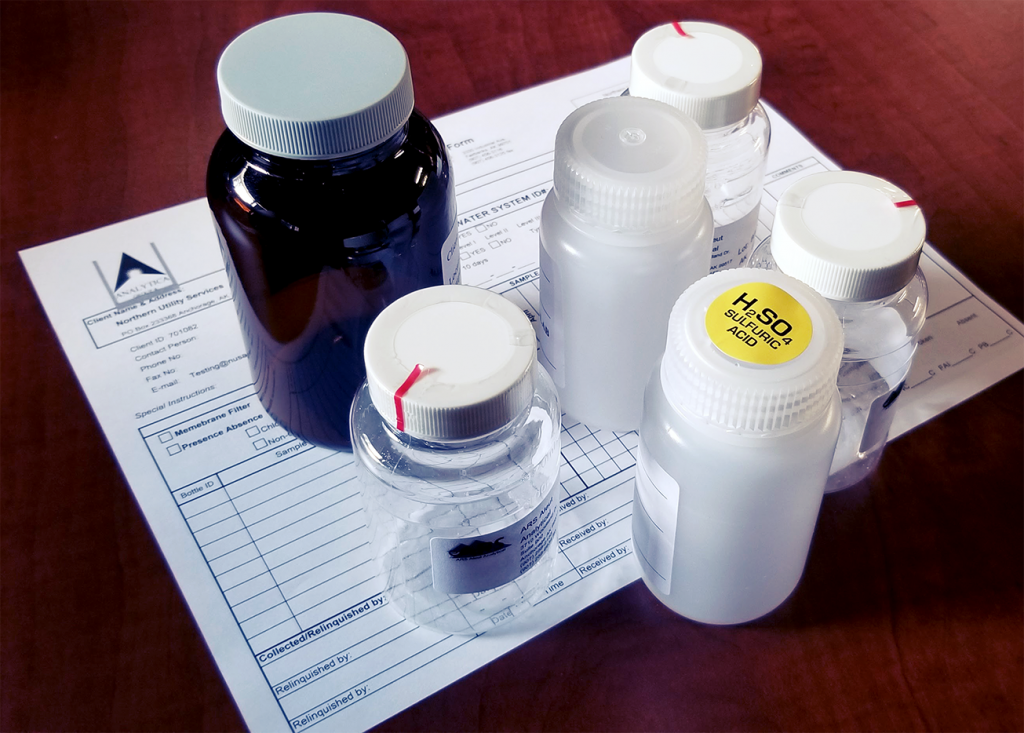 Coliform Bacteria Testing
Coliform bacteria can indicate that there are other harmful bacteria in your water. We recommend that anyone with a private well have their water tested for coliform bacteria at least once a year, as bacteria are the single biggest health risk related to your drinking water.
Most public water systems are required to take a coliform bacteria sample at least once a quarter. For a private well, as long as you are sure that your wellhead is secure and in good condition, we recommend getting a coliform sample twice a year to ensure that no outside contamination is getting into your water well.
Other Water Testing
We offer testing services for all major water contaminants, including Bacteria, Arsenic, Nitrates, Lead, Copper, Volatile Organic Compounds, Iron, Hardness, Chlorine, Fluoride, and many more.
Well & Pressure Tank Inspections
Water Well Inspection
Your water well is your source of safe, potable drinking water. For your safety, the wellhead (pictured) should be inspected on a regular basis. If the wellhead is not properly secured, your well can easily be contaminated with anything from fertilizer to dead rodents.
Northern Utility Services has never had dangerous bacterial contamination in any of the 100 wells we maintain.
Pressure Tank Inspection
Every home with a private well should have a pressure tank. This pressure tank acts as a buffer in the water system and keeps the water pressure in the home consistent. The pressure tank should be half-filled with water and the rest should be pressurized air. This air buffer allows the house to maintain a consistent water pressure, increasing the life of the well pump.
After 5+ years, it is possible for the air charge to go away, causing the pressure tank to fill up with water. As a part of our well inspection, we will include a check to ensure your tank has the appropriate air charge. We will also inspect your check valve to ensure it is working properly, protecting your well from contamination.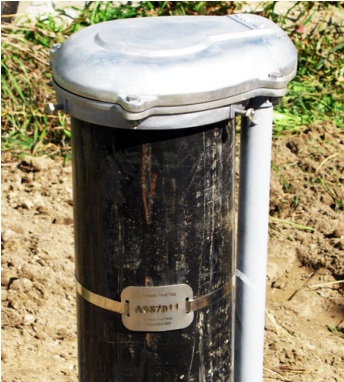 *Rushed samples must be requested before 11:00 am or an additional 18 hours may be added to the turnaround time. 36 hours is only available for the coliform bacteria sample, all other samples will take longer.